Wm. Blanchard Co.

Building New Jersey's Future for Six Generations
Since 1860
150+ Years of Building
Company
Mission Statement
Our mission is to maintain a legacy of excellence and integrity by consistently providing construction management services with superior results through proactive collaboration with our clients and the project teams.
Work Safety
Wm. Blanchard Co.'s policy is to foster a safety conscious workforce and provide a safe and healthful place to work that is free of recognized hazards. Wm. Blanchard Co. believes that a safe and healthful workplace comes from the involvement of all personnel – management, supervision, safety personnel, and trade workers – working together to assure that no harm comes to persons or property as a result of the work that occurs on its jobsites.
Career Opportunities
Wm. Blanchard Co. continuously looks to fill positions for project management, assistant project managers, BIM technical managers, superintendents, and many more!
Click here for more information
150 Years of Building
With the sixth generation of Blanchards leading the firm, Clifford and William I. Blanchard can draw on the company's extraordinary heritage and passionate commitment to hard work, dedication to clients, and excellent results to ensure Blanchard's continuing position at the forefront of the industry.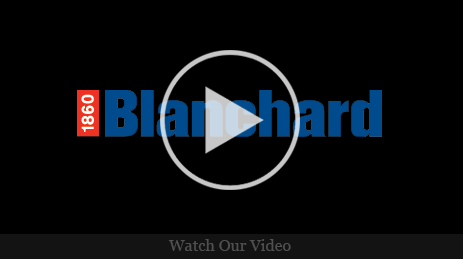 Heritage
The Blanchard Family Legacy
Timeline
In 1860, Isaac Blanchard, a master mason and Civil War veteran, founded the firm that is known today as Wm. Blanchard Co. in Newark, New Jersey. A specialist in the construction of brick baking ovens, Isaac Blanchard built a strong reputation for hard work and dedication, which enabled him to branch out to other aspects of general construction.
Turn-of-the-century industrialization and growth in Newark provided the opportunity to move into the forefront of building construction. The firm remained a family enterprise, with management passing from father to son. William L. Blanchard carried on the tradition of excellence, as did his son, Isaac C. Blanchard.The company's commercial projects continued to grow, along with the recognition and respect as one of the region's premier general contractors.
The Great Depression
became a time of diversity for Blanchard. With construction demand ebbing, Blanchard carpenters were put to work crafting "Nordic Hickory Skis" for civilian and military use. Blanchard tradesmen also provided the maintenance and renovation of Blanchard owned buildings leased to commercial and manufacturing firms in northern New Jersey.
With the start of World War II and the resurgence of construction demand, Blanchard became an integral part of the national war effort. William F. Blanchard oversaw the four-month conversion of a General Motors automobile plant into a Grumman "Wildcat" Navy fighter plane factory. This extraordinary accomplishment earned the firm the prestigious Army-Navy E Production Award for excellence in War production.
Post-war
economic expansion generated a variety of projects in northern New Jersey. This was a time when Blanchard was building breweries, banks, churches, hospitals, department stores, warehouses, and industrial plants to meet the pace of the area's rapid development.
Beginning in the 1960s with the next generation of leadership under Richard and William C. Blanchard, large-scale office buildings in the heart of Newark and northern New Jersey became an important part of Blanchard's growing portfolio.
To this day, Blanchard has long-term partnerships with Hackensack University Medical Center, Robert Wood Johnson University Hospital, Atlantic Health Systems, Meridian Hospitals Corporation, Hunterdon Medical Center, and others. Currently 95% of our projects are repeat work from clients who have selected Wm. Blanchard Co. for decades.
Expertise
Building New Jersey´s Future for Six Generations
Clients
Delivering Results for Our Clients
Below are a few of the many clients Wm. Blanchard Co. has worked with.
Plan Room
WBCO Plan Room Login Area
If you are having any problems accessing the above mentioned links, please contact Jeff Kinder from our I.T. Department.
Plan Room
To visit our plan room for drawings and specifications on a specific job, use the link below:
WBCO Plan Room
Contact Us
Locate or Contact our Offices
HOME OFFICE
Wm. Blanchard Co.
199 Mountain Avenue
Springfield, NJ 07081
info@wmblanchard.com
973.376.9100 (T)
973.376.9154 (F)
MAP
SITE OFFICES
HackensackUMC
Blanchard Turner Construction
107 First Street
Hackensack, N.J. 07601
201.497.6720 (T)
201.497.6721 (F)
Morristown Medical Center Jobsite
Wm. Blanchard Co.
115 Franklin Street
Morristown, NJ 07960
973.292.9202 (T)
973.292.9201 (F)
Saint Barnabas Medical Center Jobsite
Wm. Blanchard Co.
94 Old Short Hills Road
Livingston, NJ 07039
973.369.7335 (T)
973.369.7338 (F)
SITE OFFICES (Continued)
Robert Wood Johnson University Hospital Jobsite
Wm. Blanchard Co.
24 Hardenberg Street
New Brunswick, NJ 08901
732.418.8406 (T)
732.846.1559 (F)
Clara Maass Medical Center Jobsite
Wm. Blanchard Co.
1 Clara Maass Dr.
Belleville, NJ, 07109
201.437.5500 (T)
201.437.5501 (F)
Building New Jersey's Future